This section explains the application for Ritsumeikan University tuition reduction. For scholarship applications, please refer to the Scholarship article.
                      Important
Announcement of tuition reductions for Spring Semester 2023 is scheduled on May 18 . We recommend that you confirm the amount of tuition fee after the reduction is applied on CAMPUS WEB, etc. after the announcement of the tuition reduction and before paying the tuition. Spring Semester Payment Due Date is May 31.
There is a period once per year in which we accept applications for tuition reduction. Students that were admitted in April can apply each year in early April, and students that were admitted in September can apply each year in late September.
If the time of being re-instated is different from the time of admission, those students can apply at the time of being re-instated.
The applications for the Spring semester 2023 are as follows.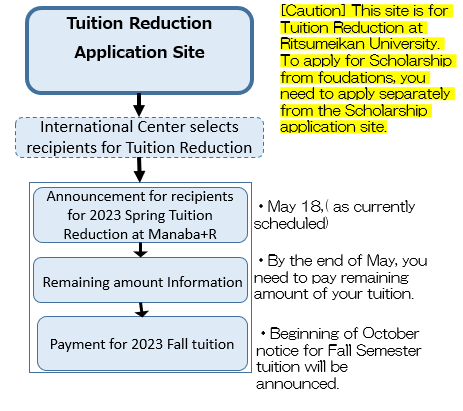 Application Period 
  April 4, 2023 (Tue) 1:00 pm ~ April 11, 2023 (Tue) 5:00 pm (Japan Standard Time)
Application Guidelines
  Please click here.
Online Application
When the application time is reached, we will guide you to the link on this page.
The online application will not be available during the hours below due to system maintenance.
  From 4:30 AM to 5:30 AM daily (During course registration periods: from 2:00 AM to 6:30 AM)
  From 7:30 PM Wednesdays to 9: 00 AM Thursdays
Contact
Send any inquiries via the question form at the link below. RAINBOW ID and password are required.
https://global.support.ritsumei.ac.jp/hc/en-us/requests/new?ticket_form_id=360005720194