Scholarship and Tuition Reduction applications are to be made via separate online application forms.
This page describes the Application for scholarships administered by the university and scholarships which require a recommendation directly from the university to the scholarship foundation in order for the student to become a potential candidate. For the Tuition Reduction application, please refer to the Tuition Reduction Guidelines.
There is a period once per year in which we accept applications for university-recommended scholarships. Students that were admitted in April can apply each year in early April, and students that were admitted in September can apply each year in late September.
If the time of being re-instated is different from the time of admission, those students can apply at the time of being re-instated.
The flow from scholarship application to scholarship receipt is as follows.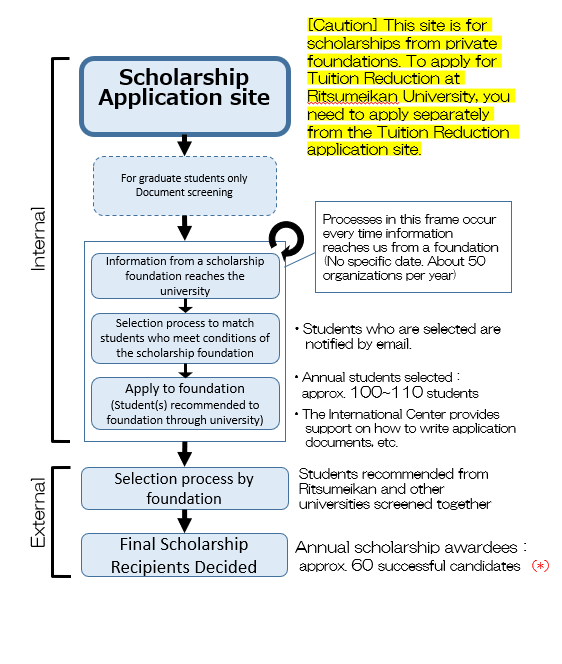 The applications for the Fall semester of 2023 are as follows.
Application Period 
  September 27 (Wed) 13:00 ~October 10 (Tue) 17:00 (Japan Time)
Application Guidelines
Online Application
   https://cw.ritsumei.ac.jp/campusweb/SVA20D0.html?key=SUR20230913094718647508495
The online application will not be available during the hours below due to system maintenance.
 From 4:30 AM to 5:30 AM daily (During course registration periods: from 2:00 AM to 6:30 AM)
  From 7:30 PM Wednesdays to 9: 00 AM Thursdays
Contact
   Send any inquiries via the question form at the link below. RAINBOW ID and password are    required.
   https://global.support.ritsumei.ac.jp/hc/en-us/requests/new?ticket_form_id=360005720194