【!】Important Notice

From September 7, 2022, the system for new entry into Japan for foreign nationals will change.
Please check the details in the following, "■ About Japanese Government's Border Measures".
For newly entering Japan, you need to obtain a Certificate of Eligibility (CoE) and then, proceed the followings.
Register with Ritsumeikan University's AMARYS system for students who will enter Japan for the first time since their enrollment in the academic years 2022, 2021, and 2020. And apply for the issuance of the ERFS registration certificate for visa application on AMARYS.
* For the URL and details of AMARYS, please refer to "■ About AMARYS" below.
* As soon as the ERFS registration certificate is issued, the PDF file will be uploaded to the "My Page" of AMARYS.



Apply for a visa. When applying for a visa, please submit the CoE and the ERFS registration certificate.
* Please apply for visa in direct at the nearest Japanese Embassy/Consulate-General in your country.

Check the Japanese government's latest border measures for your country/region. Prepare for your departure according to them.
* For the details and the latest information, please refer to "■ Japanese Government's Border Measures" below.
■ About AMARYS
Ritsumeikan University's platform for students newly entering Japan (AMARYS)
*You can select "Japanese" or "English" from the language setting pull-down menu at the top right of the screen.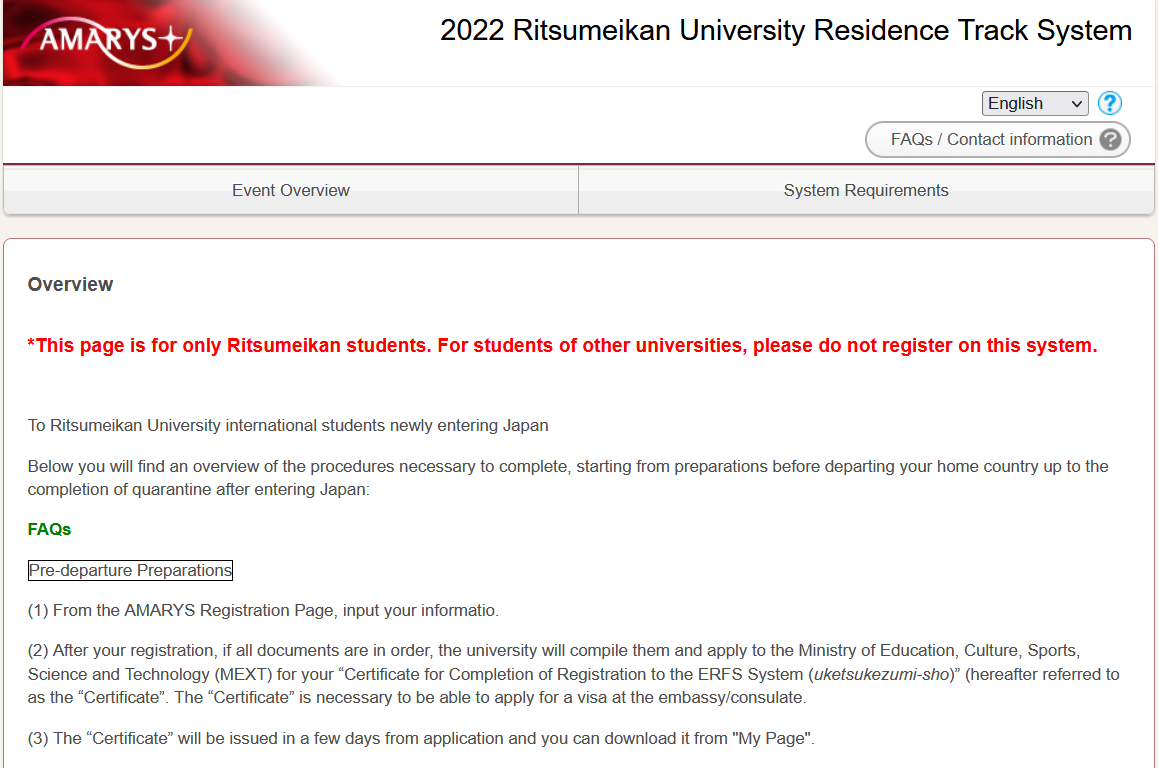 https://amarys-jtb.jp/ritsumeikan_univ2021/
Inquiries:
For any questions about the system (AMARYS), do not hesitate to contact the following company:
JTB Kyoto Branch
[Emai] kyoto_eigyo1@jtb.com
[Business hours] 9:30-17:30 (Closed on weekends and holidays)
[FAQs] Please also see the attached file for a list of frequent inquiries & responses to them regarding AMARYS registration.
* This system is for students who will enter Japan for the first time since their enrollment in the academic years 2020, 2021, and 2022. Students who are returning to university or re-entering Japan and have newly obtained a COE are also eligible to use this system.
* Students who enter Japan with a re-entry permit or special re-entry permit will continue to be allowed to enter Japan as those with "special circumstances", and will not be required to register with AMARYS (no receipt of application is required).
* This is a new system with new items added in line with the easing of entry restrictions from March 2022. Therefore, even if you have registered with this system before, please enter your information again.
* If you have not yet received your student ID number from the office of your college or graduate school, please enter your examinee number.
* Please be sure to check the website of your local Japanese embassy or consulate general for the latest information on detailed conditions for entry into Japan, as they vary based on country and region and the situation may change at any time.
* Please note that "学校法人立命館" which means "Ritsumeikan Trust" in Japanese will be printed on the item of "Name of Receiving Organization" in the certificate due to the specifications of the Ministry of Health, Labor and Welfare (MHLW) system (ERFS). To ensure that your visa application proceeds smoothly, please also submit this letter of explanation when you apply for your visa.
* In order to prevent congestion at the airport quarantine station when entering Japan, and to ensure thorough completion of pre-entry procedures (Fast Track/Visit Japan Web), international students newly entering Japan will be required to submit a letter of confirmation from the university and a personal letter of confirmation. Students who have already been issued a COE and will be applying for a visa should contact the International Center if they are requested to submit these documents by their local Japanese embassy or consulate.
For information about the letter of confirmation, please use this form to inquire. (Updated 6/16)
(For your reference) Immigration Services Bureau of Japan Website
https://www.mofa.go.jp/ca/fna/page22e_000921.html


■ About Japanese Government's Border Measures
[Important Notes]
From September 7, 2022, the system for new entry into Japan for foreign nationals will change. The need for pre-departure test or quarantine after entry into Japan will differ depending on the classification of the country/region of departure, as defined on the following websites.
With this change in policy, students hailing from a large number of countries/regions will no longer need to self-quarantine upon arrival. Regardless, for new entry into Japan, students still must register their information in the AMARYS immigration data management system, obtain the ERFS registration certificate which is issued sometime after registration in AMARYS, obtain a Vaccination Certificate of COVID-19 (if you don't have a Vaccination Certificate, you need to have a negative test result certificate taken within 72 hours of their scheduled departure), use the "fast track" system including the MYSOS app, etc... Please proceed according to the procedures outlined on the AMARYS top page linked above.
[Ministry of Health, Labour and Welfare] https://www.mhlw.go.jp/stf/covid-19/bordercontrol.html
[Ministry of Foreign Affairs (MOFA)] https://www.mofa.go.jp/ca/fna/page4e_001053.html
[Country/Region Classification (MOFA)] https://www.mofa.go.jp/ca/fna/page4e_001053.html#title4